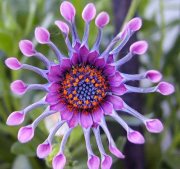 Through intuitive counseling, guided visualization, art therapy and spiritual insight, Lilla offers a healthy balance of warmth, compassion, skilled support, and clear insight. She encourages clients' active participation in achieving results while providing a comfortable, safe, and supportive environment. Through empathic listening, Lilla advocates for her clients and focus is on being present, practicing awareness, insight and self care. Therapeutic sessions with Lilla will create a foundation for greater well being and a deeper sense of aliveness.
Lilla offers listening with compassion and appreciating you just as you are now.  Though her encouragement you will experience a deeper connection with all aspects of your being and access the changes that you are seeking. All emotional, mental and physical conditions can be changed. You are the vessel for the healing. Through your willingness and intention you will move into the paradigm shift with ease and grace internally and externally. Are you ready to embark on a journey for greater love, joy, and peace?
The key to positive and lasting change is learning how to be gentle and care for yourself. I offer you an opportunity to address and heal from painful past experiences, recognize and overcome self-defeating beliefs and behaviors, strengthen relationships, and utilize personal strengths. Healing is possible. In gratitude I look forward to our journey together. Be in touch with your heart and soul.
Time and Price for Sessions: