Home
As an educator, counselor, life coach, art therapist and minister, I have been given an amazing opportunity
to witness the growth and empowerment of many individuals, whom I feel very blessed to assist. 
Experiencing "Self" through the tools of expressive arts and trans-personal psychology
is a wonderful opportunity for anyone on the path of consciousness.
Would you like to:
Gain greater confidence

Improve your communication

Increase the quality of your relationships   

Experience greater presence

Transform negative thinking into positive thinking              

Awaken to your gifts ~ path ~ destiny  

Experience greater authenticity and compassion                                              

Then you are at the right site…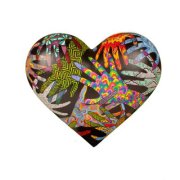 Lilla Khalsa LPC, Art Therapist/ Clinical Counselor/Life Coach
 29 Ravenscroft Drive Suite 202 Asheville, NC 28801
oakes.khalsa@gmail.com
828 777-1962 
Thank you for visiting Expressive Arts Alliance. I value our connection.
I will keep you updated on our latest programs and classes.